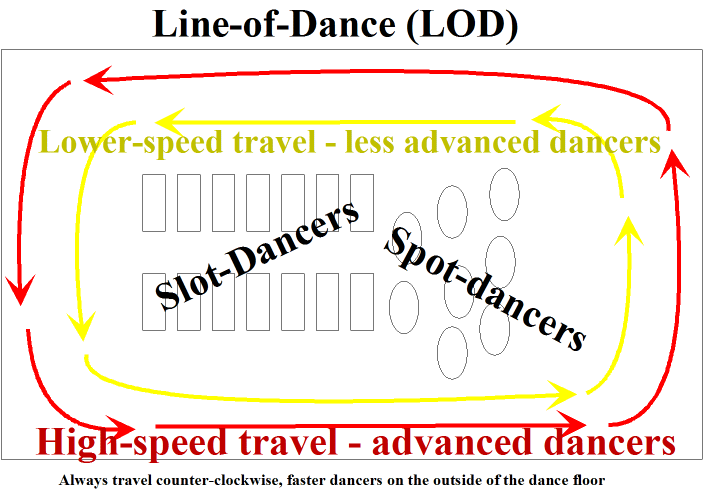 Direction to Dance (aka Line of Dance)
WEST COAST SWING IS DANCED AS A "SLOT".
At our Sunday dances West Coast Swing is danced 90% while there may be a Country Two-Step (line of dance red or yellow) and/or a Night Club Two Step (aka. Spot dance). West Coast Swing is considered a "slotted dance". The slot is an imaginary area, long and thin, eight or nine feet long. The follower travels back and forth in the slot dancing straight past the leader. The leader generally moves smaller than the follower and barely gets out of the way off to the side at the middle of the slot. The follower may lightly brush the leader when passing. Socially, it is considered good etiquette (particularly on a crowded floor) to use a fixed slot, in order to allow dancing without incident. Whereas, when there is more room, a couple may "move" the slot. A couple "has a claim" on the area once danced repeatedly, and other couples entering around usually cooperate and establish their own slot parallel with the dancers. If the dance floor is not crowded and the couple is afforded more space, such as during a competitive event, the dancers may move the slot around the floor more liberally.
Beginner's Asking for a Dance
If you are new, asking someone to dance can be very intimidating. REMEMBER- EVERYONE has been new to this dance at one point or new to visiting our dance. Just know that many that come out to dance may not come out very often and are anxious and focused to reconnect and dance with old friends or dance partners. Professionals understand the important of supporting new dancers and are very interested in dancing with new individuals but they also have a dance card full to include their current students that want dances as well as regulars. Be patient. Professionals are generally good about remembering who they have promised a dance. When you have an opportunity to approach one, consider saying "My name is______. I am new or visiting. I would really enjoy a dance with you if possible this evening if you are able to.".
Watch your surroundings.
Who else is sitting down that might light to dance?
Who else appears to be a beginner dancer?
Who appears smiling and approacheable?
The best way to ask is to find someone who may not be in a deep conversation with anyone. Walk up, make eye contact, and say "Pardon me or Excuse me. Hi- I am new to dancing. This is my first time here. Would you be interested in a dance?"
If you get turned down more generally it is NOT you. It will be because the person you asked may have just danced with 5 new people before you or want to dance with a particular person to a song that just came on. Sometimes, based on the song, if it is too fast or too lyrical and they know you are new will want to find you to dance a different song. Sometimes a member may have actually promised someone else to dance. If you do get turned down (and we all do from time to time). Just try to smile and say "Ok, well maybe another time then," or "Ok, no problem. Thank you." and walk away.
If you are getting turned down a lot consider talking with a professional. There could be something very uncomfortable in your dance that is happening or it could be a hygiene issue.
Please reload